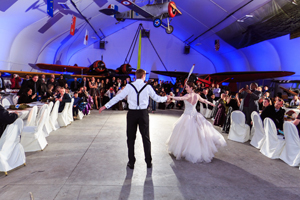 Alaska Aviation Museum
– This is a super fun spot to have a ceremony or reception, especially if you like airplanes. There are a bunch of old planes sitting around available to use for photos, and the interior reception space is really big and also full of planes. Pro tip: If you're renting the big white tent, you really need to bring in some colorful LED up-lights. Check out our reception photos and you'll see what the lights can do. We can provide information on which companies offer this service upon request.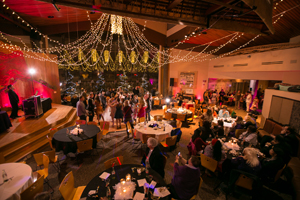 Alaska Native Heritage Center
– Great location to enjoy the history of the Alaska Native culture, a beautiful indoor space for your reception, and there are also a few outdoor ceremony locations to choose from. A large dance area is available, as is a stage. The tall windows let in a lot of nice light in the evening.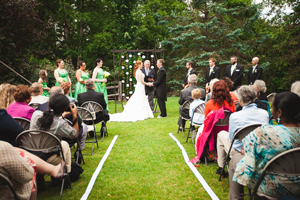 Alaska Zoo
– What an awesome place to get married! Lots of Animals (of course!) and beautiful locations for photos. There are indoor and outdoor ceremony options, or bring a tent. The indoor reception area is spacious and new. If you have kids at your wedding, make sure someone is in charge of walking them around the zoo to see the animals at some point before the exhibits close.

Anchorage Museum
-An excellent venue for larger groups! There are multiple ceremony location options, and a very large central reception space. Marx Brothers Cafe serves amazing cuisine for dinner. Hire a DJ with lighting equipment to really dress this room up. It's a big space and lights help define areas and give the room more character. The modern exterior also provides an interesting background for outdoor photos.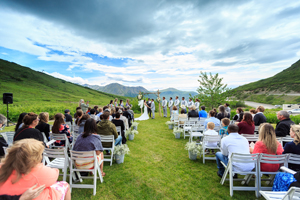 Alpenglow Ski Chalet at Arctic Valley
-Some of the best scenery in the Anchorage bowl! Wow your guests with panoramic views of the mountains and city. Dress the space up with lights and colorful objects to make it more warm and inviting. See more photos by clicking here for inspiration. So many photo options here! This place is one of our favorite places to shoot in Anchorage.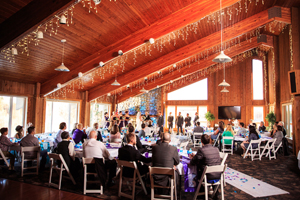 Bayshore Clubhouse
-A large space in a quiet neighborhood with both indoor and outdoor ceremony options. A dance floor is provided. Bring your own food and drinks. During the fall this area is exceptionally pretty. There is a nice pond out back with a walking path along it. In the winter it's a bright indoor option as there are big windows on 2 sides that let in natural light.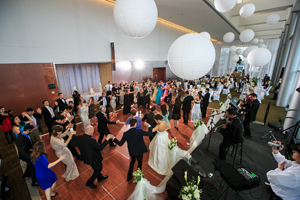 Dena'ina Center
-One of Anchorage's newest buildings fitted with modern architecture and lots of windows for natural light, the Dena'ina center is likely the largest indoor space available for a wedding. Bring a few thousand friends and have a party! There is an indoor or outdoor ceremony location option.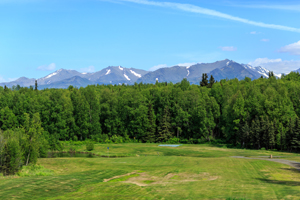 Fox Hollow Chalet
-Have your ceremony outside on the deck, on the lawn below the deck, or on the deck itself! Then move inside for your reception in the large banquet space. The little pond makes a nice backdrop for photos and there is even a boardwalk through the muskeg if you're willing to get a little dirty. Bring your own food, drink, etc..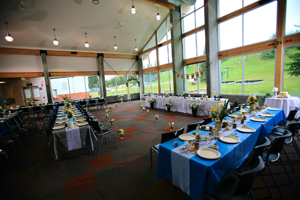 Hilltop Chalet
-A nice place for a wedding if you want a ski-themed wedding. Or come here for a gorgeous backdrop of mountains and trees. A big indoor area for your reception and an even bigger outdoor area for the ceremony. Go for a hike to the top of the ski hill for some bigger views of the surrounding area.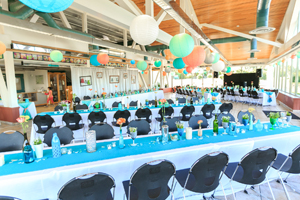 Kincaid Chalet
-Awesome indoor/outdoor venue with views of the mountains, inlet, and Sleeping Lady! Big windows on 3 sides allow tons of natural light and there's plenty of room to spread out. Lots of fun areas to do photos around Kincaid – a bridge, some tunnels, flower gardens, or ski trails in the winter.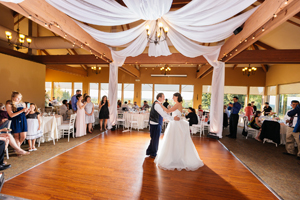 O'Malleys On the Green
-One of the more popular Anchorage wedding venues! Beautiful outdoor ceremony spaces with two reception rooms to choose from inside. Good food and lots of windows allowing natural light. A short walk from the clubhouse gives us many different backgrounds. Or hop on a golf cart and go explore if it's not too busy on the course.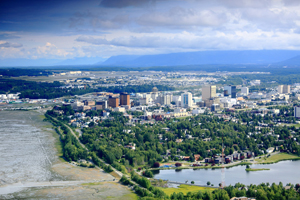 Anchorage Hotels – There are many great hotels in Anchorage. There are too many to list here, but most can accommodate weddings. Some of the most popular and frequently visited venues include the following; Anchorage Hilton, Anchorage Marriott, Hotel Captain Cook, Lakefront Hotel, and Sheraton Hotel. We have worked extensively at all of them.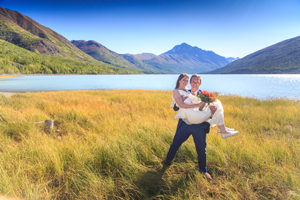 Eklutna Lake
-We've done a few weddings here and they've all been smaller groups who wanted a beautiful setting in the mountains. The lake is one of the prettiest spots in the Anchorage area. You can pretty much pick any spot to have the ceremony, but most people chose a location along the lakeshore.
Here is a more comprehensive list of Anchorage Area Wedding Venues
Walkabout Anchorage
Admirals Place
Alaska Botanical Gardens
Bill Sheffield Railroad Depot
Carr-Gottstein Park
Elmendorf Chalet
Glen Alps & Flattop
Lake Hood Airport
Eagle River Nature Center
St. Andrews Church
Private Residence
Anchorage Area Churches
Central Lutheran
Christ Our Savior Lutheran
Church of Christ
First Covenant
Holy Family Cathedral
Holy Transfiguration Greek Orthodox
LDS Temple
Muldoon Community Assembly
Our Lady of Guadalupe
Rabbit Creek Community
St. Benedict's
St. Elizabeth's
St. Johns Methodist
St. Patrick's
Trinity Presbyterian