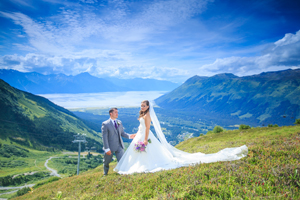 Alyeska Resort
– The largest venue in Girdwood that offers everything; Good food, lodging, beautiful ceremony location, elegant ballrooms, and an attentive staff. There are a lot of options and we love working with them! Highly recommended by Chugach Peaks.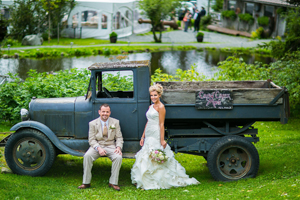 Crow Creek Mine
– A Long dirt road takes you to one of the coolest wedding sites in Alaska! A real, working mine! Get married and try your hand at prospecting all in the same day. Tons of cool props for photos all over the grounds, and of course beautiful mountain scenery. Bring your own food and drink.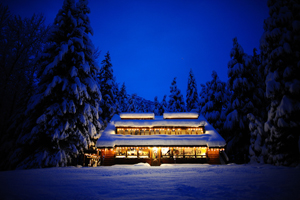 Raven Glacier Lodge
– One of our absolute favorite places to shoot in Alaska! And one of our favorite people, too! Cathy Frost consistently prepares the BEST wedding food in Alaska! All home-made, from scratch goodness. The grounds speak for themselves, the food speaks for itself.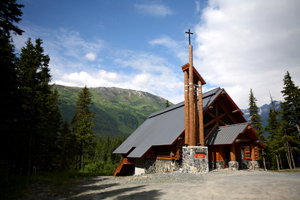 Our Lady of the Snows Chapel
-This has got to be one of the prettiest churches in the state! We do so many weddings here and love it each time. Expansive views abound all around the building and the light is always perfect, no matter the weather or time of day. The people who run the church are especially nice and helpful and will make sure everything goes smoothly for you.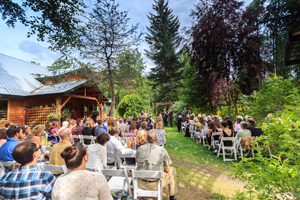 Forget Me Not Nursery (Indian)
-We list this as a Girdwood location, but it's actually in Indian, which is between Girdwood and Anchorage. The owners are a really nice family that are there to make sure your day is great, and the venue is really cool – Check this place out and give it a shot, you will be happy you did!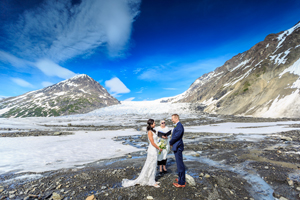 Girdwood Helicopter Weddings
-Don't own a helicopter, or have friends who do? No problem! Call our friends at Alpine Air or Tanalian Aviation and they will hook you up with the most amazing flight of your life, and even land on a glacier or mountain top for some truly once in a lifetime photo opportunities. You know you want to! Sure, it's not going to be the least expensive thing you do in Alaska, but we guarantee you won't regret it, and we guarantee amazing photos!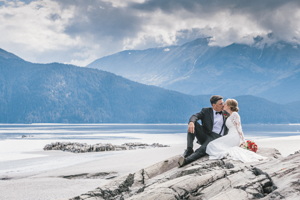 Chugach State Park
-There is great access to Chugach State Park near Girdwood! From the Crow Pass Trail, to the Winner Creek Trail and gorge/hand tram, to Bird Point. Give us some extra time and we'll show you some of the prettiest spots in Alaska that are right near the road.

Walkabout: Girdwood
-Too many places to list here! We've got a bunch of cool spots we've scouted over the years and depending on the weather and lighting conditions and how much time we're given, we'll make sure you end up with a lot of cool stuff and a good variety of scenes. One of the most requested is Moose Meadows, which you'll see a lot of here. But beware: It is often muddy and wet most of the summer!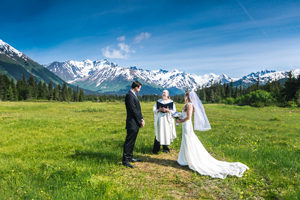 Girdwood Ceremonies
-Need a place to have a small wedding ceremony? Girdwood has a lot of hidden gems that few people know about. We can suggest some options and give you the pros and cons of each. If you don't have an officiant, check out our friends at Castle Ministries whom you'll see in some of these photos. We work with Rev. Dorthy Torres a lot!
Here is a more comprehensive list of Girdwood Area Wedding Venues
Jack Sprat Restaurant
Indian Valley Bible Chalet
Portage Glacier
Seward Highway
Winner Creek Lodge
The Inn at Whittier