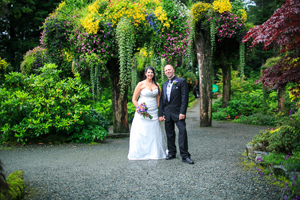 Glacier Gardens
– One of the prettiest spots in town to have a private ceremony. Indoor and outdoor option, so no matter the weather, you will have a beautiful wedding and stay dry. Lots of flowers, interesting plants, and easily accessible from the cruise docks after a short drive.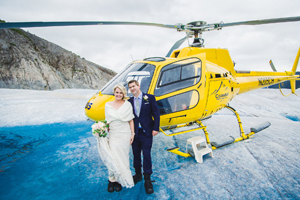 Juneau Helicopter Weddings
– One of the coolest places to get married in Alaska is on a glacier! Call our friends at AlaskaWeddings.Net in Juneau and they will hook you up with the most amazing flight of your life, and even land on a glacier or mountain top for some truly once in a lifetime photo opportunities. You know you want to! Sure, it's not going to be the least expensive thing you do in Alaska, but we guarantee you won't regret it, and we guarantee amazing photos!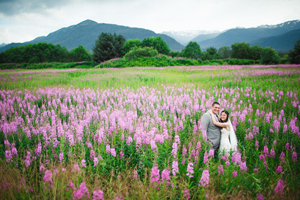 Various Juneau Public Locations
– So many great places around the Juneau area to get married! Mendenhall Lake, Sandy Beach, Auke Bay, Eagle Beach. There's an extensive list of cool places that also include the Treadwell Mine, Auke Bay, waterfalls, glacier views, or go up the aerial tram if the weather is nice.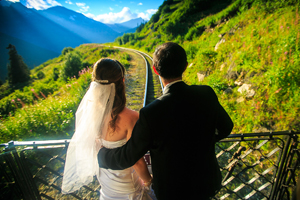 Skagway
– Skagway is a great place to get married if you're looking for a unique destination wedding location. Take the historic White Pass train ride, a van to the Canadian Border, or get married along the shore of Chilkoot Inlet. There are also a few glaciers nearby you can helicopter to. We love travelling to Skagway, so get in touch and we'll try to make the travel costs as affordable as possible to get us there!
Here are a few other Wedding Venues in Juneau-Southeast Alaska Area
Orca Adventure Lodge – Cordova
Orca Point Lodge – Juneau
The Town of Wrangell