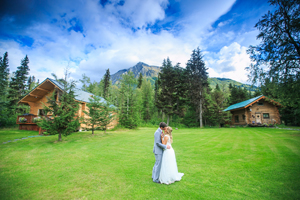 Alaska Heavenly Lodge – Cooper Landing
– One of the most popular wedding sites in Cooper Landing! Beautiful outdoor spaces and cozy cabins. Quiet setting nearby the Kenai River. Highly recommended by Chugach Peaks. Bring your own food and drink.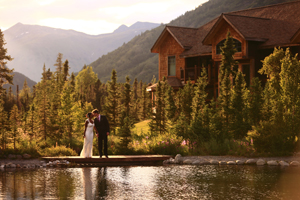 The Inn at Tern Lake – Moose Pass
– One of our favorite wedding venues in the entire state! The setting can't be beat, the food is excellent, and the owner's Jeff and Rose will make you feel like family. Highly recommended by Chugach Peaks. All food and drink provided. Options include any combination of indoor/outdoor ceremonies and receptions. Great landscaping and mountain views.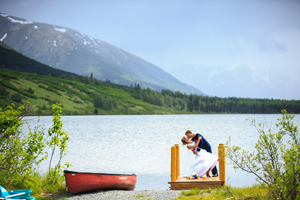 Summit Lake Lodge
– Summit Lake Lodge is located just outside beautiful Moose Pass, Alaska. The Lake is long and surrounded by mountains, and the lodge has retained it's original charming character that was first established in the 1950's when the Hass family built it.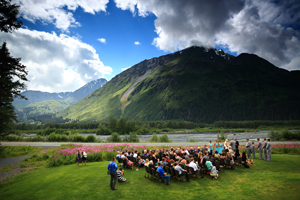 Seward Windsong Lodge
-Seward Windsong Lodge is one of the prettiest locations in Alaska you can get married right on the road system – big mountain views, and close by to the Resurrection River. Getting married at the beach or somewhere else in Seward? No problem -you should consider this as a reception spot. One of the biggest and nicest venues in town.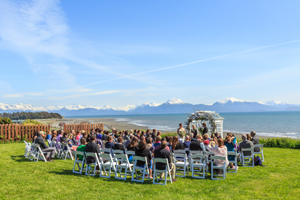 Driftwood Inn – Homer
-One of the nicest pieces of property in Homer! Fantastic views of mountains, glaciers, and the Homer Spit. Walk down to the beach and put your toe in the ocean. The Driftwood has a great backyard for the ceremony and reception and the people who own it are really nice and accommodating. If you're getting married in Homer, put this place on your list to check out.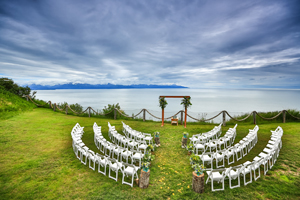 Kenai Peninsula Suites – Homer
-One of the most spectacular views in Homer, if not Alaska, awaits at the Kenai Peninsula Suites – situated high on the bluffs with endless views, this place is sweet. Chugach Peaks Photographer Joe Connolly and his wife were married here a few years ago and highly recommend it. The views are spectacular and there is plenty of space to spread out.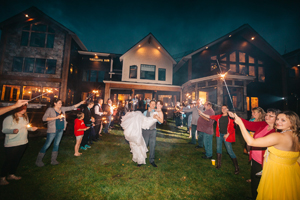 Second Star Mansion – Homer
-What else can we say, but look at these photos! Want a really cool place to get married that can accommodate almost half your guests? Looking for something a little different but want to maintain the Alaska views you came to Homer for? Here it is.. look no further. Homer's newest and biggest wedding venue, and one of the coolest places I've ever been, period.
Here is a more comprehensive list of Kenai Peninsula Area Wedding Venues
Walkabout: Cooper Landing
Alaska Wildland Adventures – Cooper Landing
Cooper Landing Community Center
Private Residence – Cooper Landing
Walkabout: Homer
Bishop's Beach – Homer
Private Residence – Homer
Tutka Bay Wilderness Lodge – Homer
Kenai Senior Center
Christ Lutheran – Soldotna
Hope Social Hall
Trail Lake Lodge – Moose Pass
Walkabout: Seward
Alaska Sealife Center – Seward
Lowell Point – Seward
Private Residence – Seward
Sacred Heart Catholic – Seward
Seward United Methodist