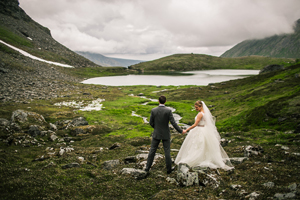 Hatcher Pass – Wasilla-Palmer
– There are so many great spots around Hatcher Pass! You can get married here, or just add a couple hours to your day for some spectacular mountain photos. Hatcher Pass arguably has the best road-accessed mountain scenery in the Anchorage area, so if you are getting married in Wasilla or Palmer, we highly recommend you take the opportunity to go here!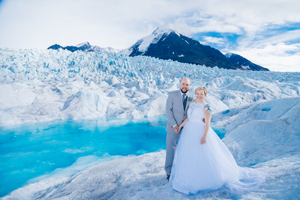 Knik Glacier – Palmer
– Take a helicopter or bush plane to the base of the Knik Glacier. This is one of the most scenic spots in all of south-central Alaska! The perfect place to get married. Even if you don't have your ceremony here, you can schedule a separate photo session with us.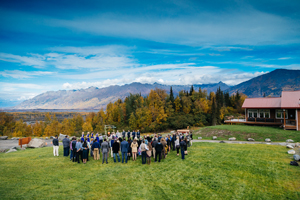 Knik River Lodge – Palmer
– Exceptional and private describe the location of the Knik River Lodge – at the very end of the Knik River Road, it's a bit of a drive but worth the effort. A helicopter is available on site, ready to whisk you away to the Knik Glacier for the coolest photo shoot you'll ever do.Lodge staff are top-notch professionals in everything they do and will make sure your wedding is awesome. Great location for Alaska destination weddings with glacier access and gourmet food.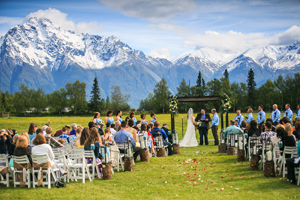 Paradise Alaska – Palmer
-Do you see the view you'll have during your ceremony?? Look to the left at that photo.. wow..! Pioneer Peak will be the centerpiece backdrop for your wedding if you choose Paradise Alaska, a relatively new wedding venue on the Alaska wedding scene. The owners are awesome and for now, they'll only be doing a limited number of weddings per year, so if you want to reserve this location, don't wait!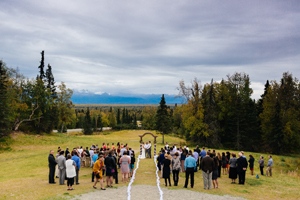 The Chalet At Government Peak – Wasilla-Palmer
-The Chalet is a relatively new venue to the valley, and a nice addition to the Hatcher Pass area. We've been here a few times now and love the views and big open space. You'll need to bring in everything, but there is a big commercial kitchen space available. Great for the DIY wedding bride and groom.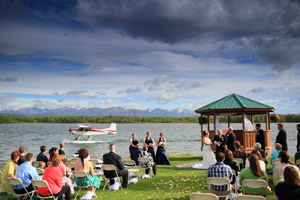 Best Western Lake Lucille – Wasilla
-Located right on beautiful Lake Lucille. Views of the Chugach Mountains to the south. Get married on the beautiful lawn, have an outdoor cocktail hour followed by a reception in their spacious ballroom.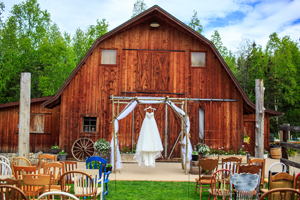 Gloryview Farm & Barn – Wasilla
-Gloryview Farm and Barn is one of the more rustic-outdoorsy venues in the Wasilla-KGB area. Really cool ceremony spot, great indoor-outdoor options, great props everywhere. We're always excited to work here. The owner is also super nice and easy to work with. The covered dinner area makes this an easy all-weather venue.

Settlers Bay Lodge – Wasilla
-Located on a bluff overlooking the Chugach Mountains and Knik Arm, the Lodge has a new outdoor ceremony area. Their ballroom is large enough to handle most groups.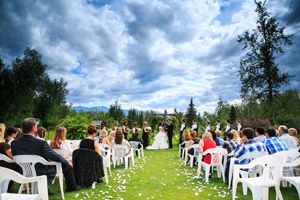 Snowfire Gardens – Wasilla
– Snowfire Gardens is a hidden gem that has entered the wedding scene in recent years. The grounds are gorgeous and private, and it is the perfect venue for a small to medium sized wedding. The flower gardens are meticulously maintained and the color palate is extensive and impressive.

Sunset View Resort – Big Lake
– One of the most popular wedding sites in the valley! Beautiful outdoor spaces and well appointed, new construction and remodeled accommodations. The owners have done a lot of work to this place and it shows. Highly recommended by Chugach Peaks. Bring your own food and drink.
Here is a more comprehensive list of Palmer-Wasilla-Valley Area Wedding Venues
Private Residence – Big Lake
Church: St. John Lutheran – Palmer
Hatcher Pass Lodge – Palmer
Private Residence – Palmer
Church: United Protestant Presbyterian – Palmer
Joe Reddington Sr.'s Boat the "Nomad" – Wasilla
Private Residence – Wasilla
Heart Rock Gardens – Willow
Private Residence – Willow
Church: St. Christopher's – Willow