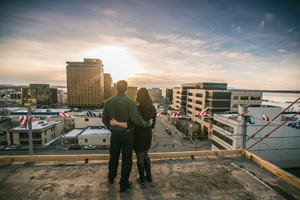 Anchorage – Downtown
– There are so many places in Downtown Anchorage to shoot! Hop in the car, hop on a bike, and let's go find the coolest places we can. We're always finding new areas to work!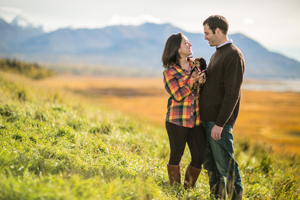 Carr-Gottstein Park
-Carr-Gottstein Park is a hidden gem of south Anchorage. We use this spot quite often for weddings on this side of town for it's easy access to mountain and inlet views, and beautiful wildflowers in the summer. A great place to do wedding photos as well!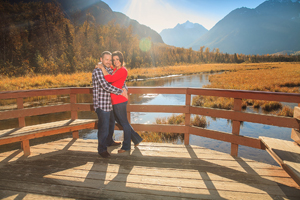 Eagle River Nature Center
-Big views and beautiful trails make up the Eagle River Nature Center area. Lots of nice spots to work with for your engagement sitting. To get to the best spot requires a 15-20 minute walk but it's well worth the effort! On a nice day there's few places with views this nice so accessible.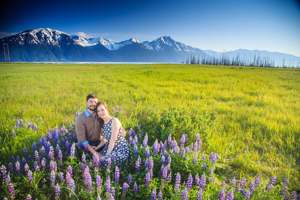 Girdwood
-There are so many places to shoot around Girdwood! Here are some of our favorite spots for engagement sessions. Check out some of our wedding galleries for a more extensive collection of photos. Same spots, the only difference is you'll be in regular (non wedding) clothes!

Glen Alps-Flattop
-One of our favorite engagement session locations! Lots of options here and spectacular scenery; Denali, Alaska Range, Chugach Range, Downtown Anchorage, Cook Inlet, etc.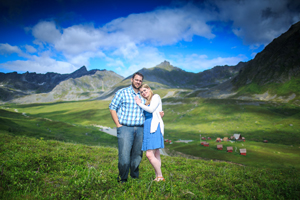 Hatcher Pass
-So many great places to shoot around Hatcher Pass! Gold Mint Trailhead, the base of Government Peak, the lookout where you can see the city of Palmer, and of course the Lodge and Mine at the end of the road. In the summer you can also drive to the actual pass, where there's a beautiful alpine lake. Don't count on getting up there until at least June, and it will often shut down again in September after the first snowfall.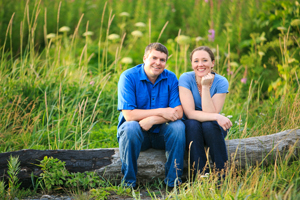 Homer
-Who doesn't love Homer? Bishops Beach, the spit, some great views out East End Road.. lots of choices!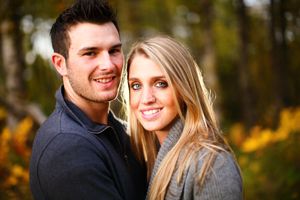 Kincaid Park
-Lots of trees, open fields of tall grass, moose, and views of the mountains on a clear day. Bring your bike or take a 20 minute walk and meet us at Anchorage's secret beach. You'll think you're at Cape Cod but the glacier and snow-capped mountains in the distance will bring you back to reality.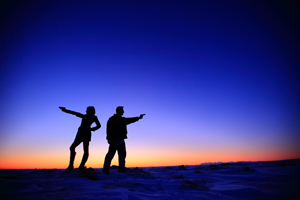 Potter Marsh
-One of our favorite engagement locations around Anchorage! Big views, big sky, nice grass in the summer. Parking is a bit of an issue to get to the goods but we can make it work!



Seward Highway
-The stretch of highway between Anchorage and Girdwood has numerous pullouts with mountain, inlet, and waterfall views. We'll drive along and pick the best areas depending on the lighting and wind conditions.